Investing in quality User Experience is more than an aesthetic upgrade — it's a strategic move that mitigates risk for your

business

. By collaborating with us, you'll leverage our specialized expertise to refine interactions that matter most, whether they're customer-facing or internal.

With our specialized lens on Property and Casualty (P&C) insurance, we combine scientific research, systemic reasoning, and creative imagination to co-create outcomes that truly resonate.
How we execute
Intentional Design for Desired Outcomes
Human-Centered Innovation: Our experts strive to understand both your business and its users, crafting digital solutions that are not just technologically advanced, but also intuitively usable.

Research-Powered Insights: Our industry-specific qualitative and quantitative research strategies offer a nuanced understanding of user needs and behavior.

Holistic Understanding: We understand P&C insurance — its risks, its challenges, and its language. We convert this understanding into enhanced experiences for both external and internal users.

Innovation at Its Best: As a trusted partner, we aim to transform challenges into opportunities, pioneering customer and employee-centric solutions.
Tailored design with a people focus
Systems Designed for Humans
The true value of effective UX design is its ability to let businesses innovate agilely based on real people's needs rather than playing catch up with technological changes. Simplified digital interactions promote self-service for routine tasks, minimizing errors and achieving cost savings through operational efficiency. Through a scientific approach, we collaborate with development to deliver systems tailored to people's needs.
The first step to unlocking more meaningful interactions is truly understanding your current landscape. Our team is ready to collaborate with you and offer a UX audit of a current product, process, or system.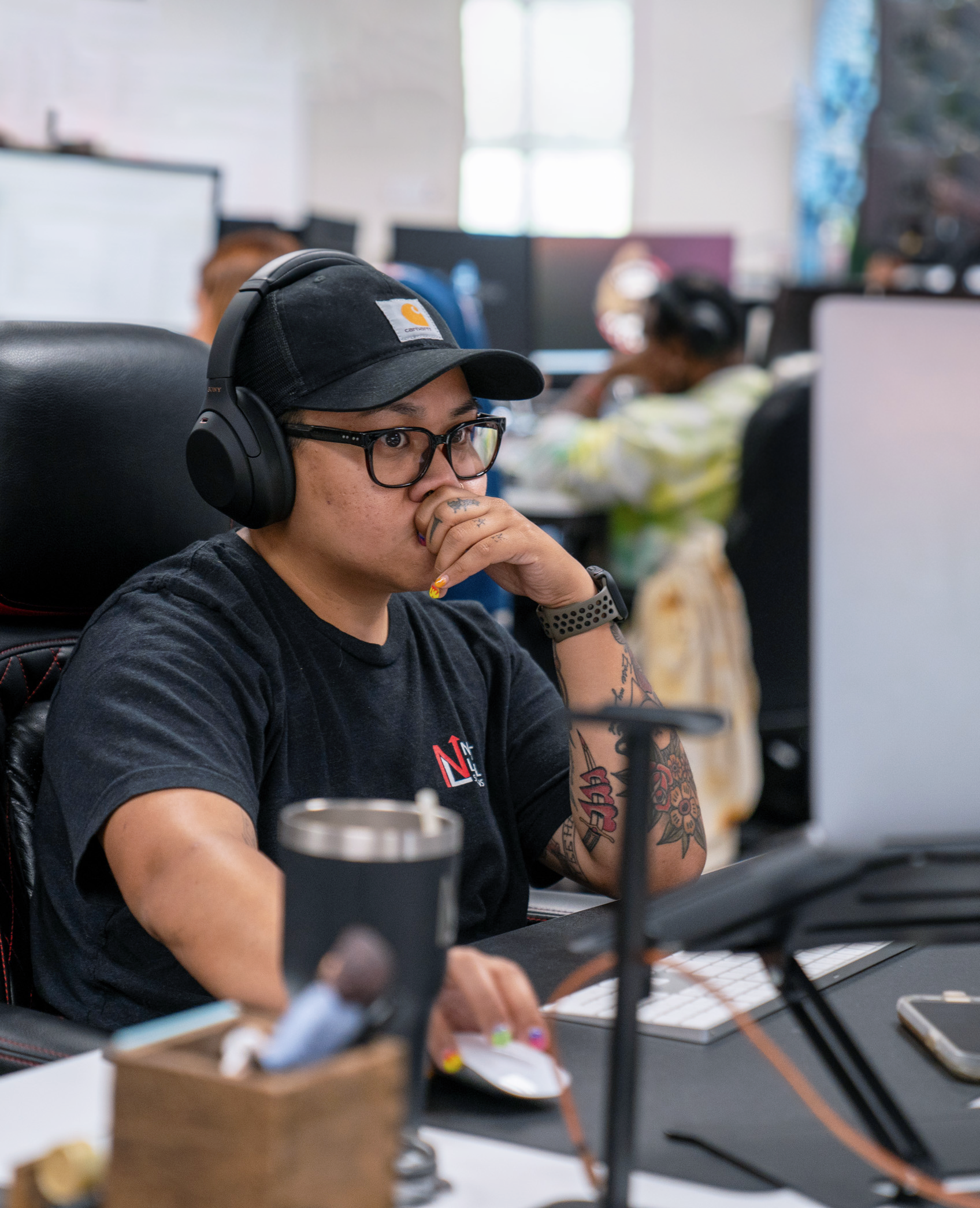 Demystifying Experience Design
Navigating the jargon-laden design world can be a challenge, especially when terms like UX, UX/UI, and XD often seem to overlap or contradict each other. That's why we've put together this handy FAQ section — to demystify the lexicon and offer clear, straightforward explanations of what our design team can do for you in the realm of experience design.
What is UX design?
User Experience (UX) Design is the practice of creating products, services, or systems that offer meaningful and relevant experiences to users. This involves designing the entire process of acquiring and integrating the product, including aspects such as usability, accessibility, and overall pleasure in interacting with the product/service/system.
UX Design focuses on the end user and considers how the design choices impact a business's goals and objectives. Effective UX design can improve customer satisfaction and loyalty, drive conversions, and even reduce development time and costs by ensuring that the product meets users' needs from the start.
How can UX design be applied to the P&C Industry?
In the Property and Casualty (P&C) insurance sector, UX design is a strategic tool for risk mitigation and operational efficiency. By focusing on user-centered outcomes, our specialized expertise helps carriers streamline both customer-facing and internal processes, such as quote generation and underwriting. The goal is to create intuitive, easy-to-navigate digital experiences that meet the unique needs of both insurance customers and internal teams, ultimately contributing to cost-effectiveness, improved customer loyalty, and enhanced decision-making capabilities.
How can the user's experience be measured?
Measuring the success of User Experience (UX) design boils down to evaluating key outcomes. Ideally, each project has key outcomes set and a plan in place to measure the experience from the start. We can quantify the experience by measuring increased user engagement, higher conversion rates, lower error rates, and positive user feedback. Various tools and metrics, such as user satisfaction surveys, task success rates, and customer support logs, can comprehensively assess how well the design meets user needs and contributes to overall project success.
How does UX Design uncover new opportunities?
In the context of Property and Casualty (P&C) insurance, UX design serves as a catalyst for discovering untapped opportunities. Our design process identifies gaps and pain points by deeply understanding the needs and behaviors of both external customers and internal teams like underwriters. This insight allows us to co-create more intuitive, efficient systems that enhance user satisfaction and open new avenues for innovation and operational excellence.
What is the difference between UI and UX design?
Within our focus on Property and Casualty (P&C) insurance, it's crucial to distinguish between UI (User Interface) and UX (User Experience) design, as both contribute to the overall solution in different ways. UI design is about the visual elements that users interact with — the layout, graphics, and controls. UX design, on the other hand, encompasses the entire journey and how the user feels navigating through it. While UI ensures that the interfaces are intuitive and visually appealing, UX dives deeper into optimizing the entire workflow, minimizing pain points, and creating a seamless experience for both external customers and internal teams like underwriters.

Both skill sets are important in our world, and we build our experience design teams to cover both disciplines.